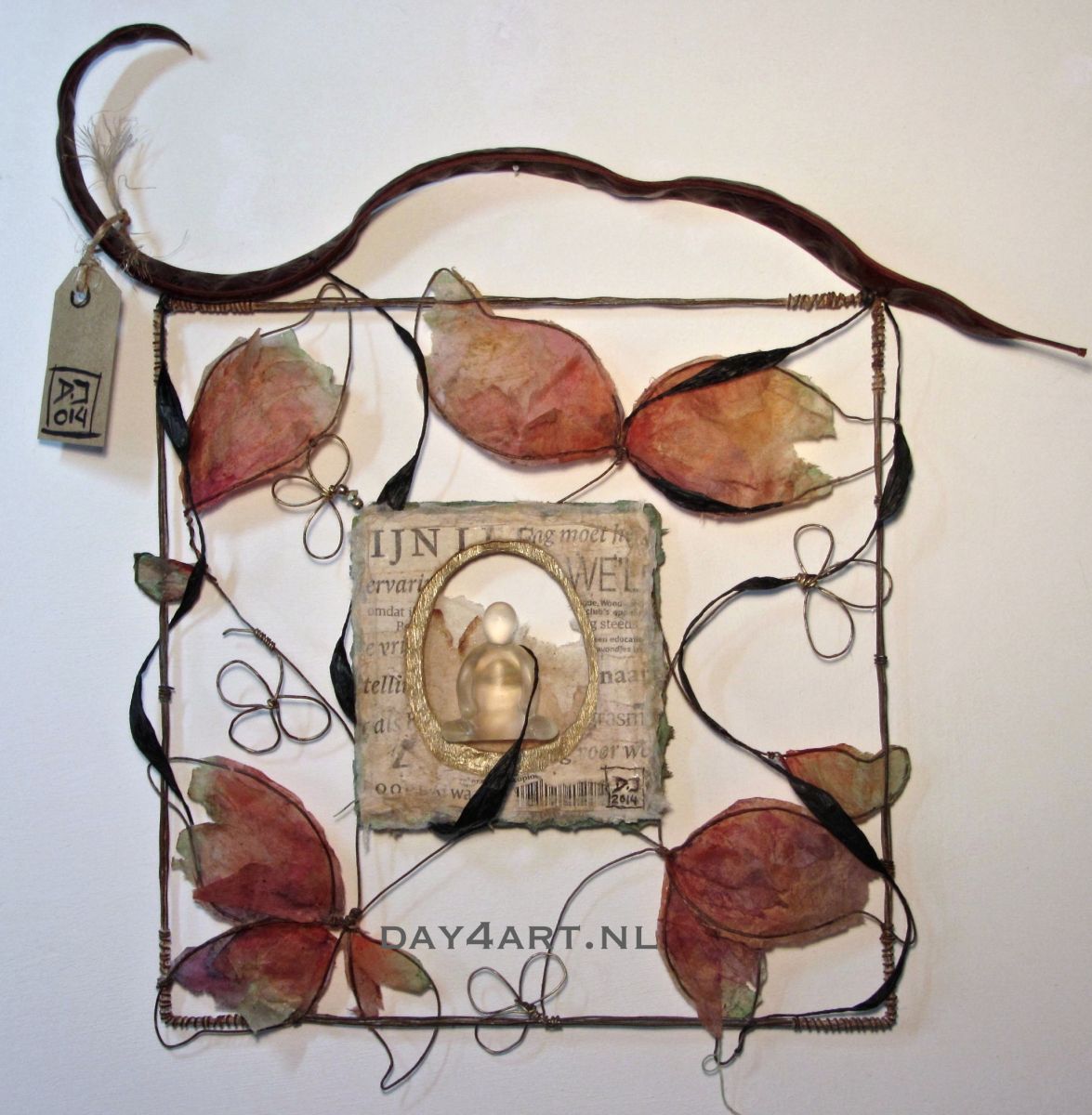 WireWorks: ZAZEN
The frame, stil being in a summery mood from TAGGED, is inspired by nature. The outside frame I already had so folded some wire flowers and leaves which were just screaming for used, washed, unravelled, dyed bits of teabags.
As I go as it comes on this one, the wire bit was done, the leaves and flowers stuck already in there so total covering was going to be difficult and not wanted... Used the outsides of the bags to cover half or most of the petals and am rather happy with that.There's a bit of string still attached somewhere but no tags this time.
Then, what to do with the middle? Something peaceful. Had a rummage through the lost and found and came up with this little buddha figurine.
Once upon a time this was an inhabitant of our bathroom, seen and heard things no one has, stuck firmly, or not as it turned out, with it's suctioncup against the tile to quietly hold up my toothbrush when one day it fell and both it's legs broke of. Unable to hold up the toothbrush any longer it disappeared somewhere. Here, to be exactly :) Perfect! I love to be outdoors, bare feet in the gras, meditate. A sanctuary. Sitting. Zazen.
The suctioncup came in handy as I wanted it to elevate, float a bit (like in the bathroom) in it's eggshaped space where the words from the world are fading... (more teabagpapers).
Last on the list, the hanging thing, what will it be? My last work had to be shipped without it's stick unfortunatly as the country has some strict rules in place. A replacement shouldn't be to hard to find in that case but this one might be a bit trickier?
The Honey Locust tree produces huge interesting looking pods. I've picked some up a long time ago and one has this beautiful curl... And that was basicly that! As I was tying it on, I noticed you could unfold bits of the black paper rope, mini pods?, and used it a bit like a vine ;) Lastly, all the paperwork is treated with a matt transparent varnish from Lascaux. Hope you like. Click here to go to: http://www.day4art.nl/kunstwerk/144651009_ZAZEN.html#.U6MWFBa6xNM